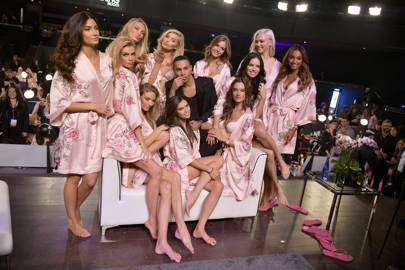 Victoria's Secret Fashion Show 2017: Everything You Need To Know

In between the manicures and pedicures – 11 manicurists using Le Chat's Pisco Sour and Pink Ribbon shades, FYI – Vogue grabbed a couple of minutes with Angels Lily Aldridge, Candice Swanepoel, Stella Maxwell, Jasmine Tookes and Lais Ribeiro, models Bella Hadid, Alanna Arrington, Leomie Anderson and Alexina Graham, and creative director of the Victoria's Secret Fashion Show Sophia Neophitou-Apostolou. Here's what we learned.
The show order changed at 3.30am
"Things always change dramatically in the run-up to show time," Neophitou-Apostolou said behind-the-scenes. "We had a last-minute change at 3.30 this morning for the punk section, which was supposed to close the show, and is now opening it. The team felt that the Balmain looks within the segment would be more impactful at the start. This, in turn, created a lot of changes in the rotation for the next sections."
Olivier Rousteing Talks Balmain X Victoria's Secret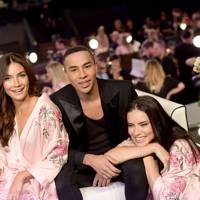 Olivier Rousteing Talks Balmain X Victoria's Secret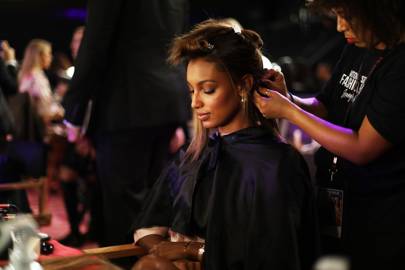 Each section is a mini fashion show
"The opening section is our punk collaboration with Olivier [Rousteing]," Neophitou-Apostolou revealed. "It's one of the most fantastical things we've ever done. The section idea came first and then we approached Olivier, who turned it into a glam-punk theme. The next section is 'Porcelain Angel', which began its life as pottery-themed, and then took a Mediterranean angle using the blue and white colours of Santorini. Next up, is 'Winter's Tale', which is based on Lapland, with elements of Russia and Christmas in the fashion. 'Millennial Nation' comes after with Pink urban streetwear. 'Goddesses', based on ancient Greek goddesses, follows as my Greek heritage comes out in full force! And 'Nomadic Adventure', a journey through Brazil and Africa with rich colours and beading, is the last. Each section is a mini show and has its own moment to shine," she explained.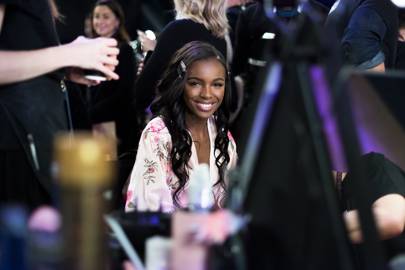 The catwalk is a different shape
"The runway is insane, it's U shaped and something you've never seen from Victoria's Secret before," Anderson explained. "And the Balmain section is going to be done differently to any other section. It will be a monumental moment for the brand."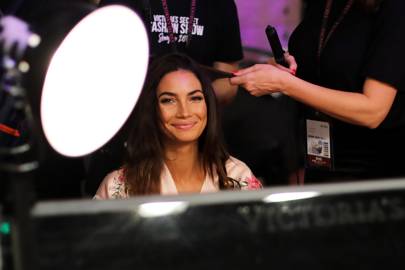 There's a mini mosh pit for fans
"The arena holds five times the people we're used to walking in front of, so I think the energy will be amazing," Aldridge said of the Mercedez-Benz venue. And, according to Tookes, "there's going to be a mini mosh pit of fans at the front to keep our energy up when we're walking."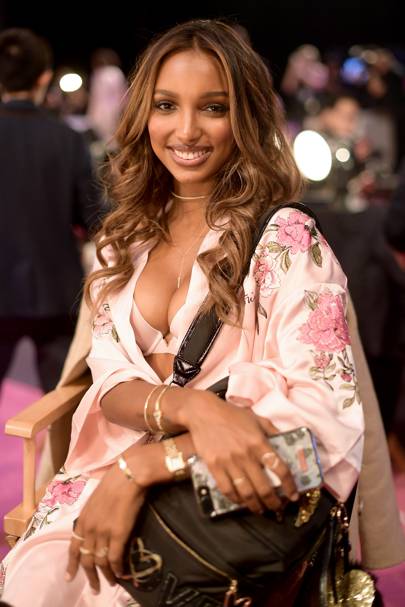 The compliments just keep coming
"Everyone here focuses on telling you that you're the most beautiful person ever," Arrington gushed of the team. "That's so important to us, because when you walk out on stage you feel like everyone's rooting for you, it's magic." When asked how the show experience differs from a normal fashion show, she said: "The whole vibe is different. Shows are more stressful and the focus is on the fashion rather than the girls. The focus here is on the beauty and making sure everyone is having a good time. The team are always making sure we're doing our best, feeling our best and doing everything we need. If there's anything we need they get it for us immediately."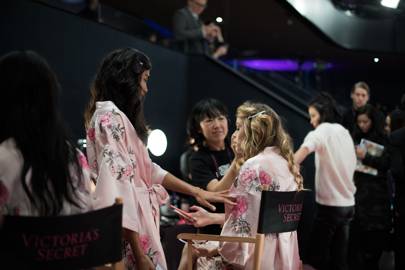 Bella Hadid listens to some "funny stuff" to get in the zone
"There's a lot of really random things I'm listening to at the moment," Hadid told us as she scrolled through her iPhone backstage. "Funny stuff, like Famous Dex, A$AP Rocky, Aaliyah, GoldLink and Jagged Edge". While the model browsed SoundCloud to find new music, Riberio had Rihanna on her speaker and Anderson had boyfriend Lancey Foux's rap music playing through her headphones.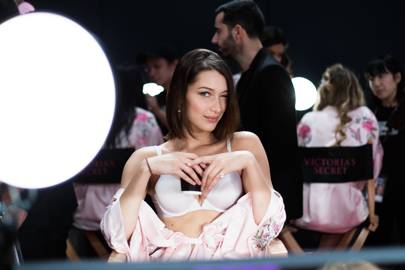 The newcomers were told to just "look cool"
The models who have walked before told me to "always stand up straight with your shoulders back and to look cool. You know, just look cool!" a nervous Alexina Graham said ahead of her first show. The newcomer plans to celebrate post-show with "vodka and pasta."